Hi readers, since the summer holidays Tina and myself have been burying our head in books, catching up with our blog posts and planning ahead for Halloween!
Yes, I said "Halloween"!! I cannot believe it has come around so quickly again!
But while you wait for some super cool reviews over the oncoming scary period here are thirteen fab stories that we have reviewed over the past few weeks! As usual there is a great range of genres, from contemporary romance to erotic romance, historicals to sci-fi's and dystopians!! (To see our review please click on the book title).
Happy Reading 🙂
Caroline and Tina xx
Back to Storafalt (Finally Ever After) by Holley Trent, contemporary romance (reviewed by Tina Williams)
Blurb: He stood her up. Now she's standing out.
The last time Justine Eklund had heard from Gray Voss was when he'd agreed to take her to her sister's wedding. He stood her up. Twelve years later, he's back in Wyoming as the new owner of Storafalt's only pharmacy. He didn't come alone, though. He brought along the small cowboy town's best-kept secret—his preteen son, Danny.
Gray wants to pick up where he left off. He never stopped loving the beautiful rabble-rouser, and thinks she'll fit seamlessly into his little family. Justine yearns to reignite that old torch, but she's wary. She's not convinced her high school sweetheart will stick around.
Storafalt's only school is on a rapid decline, so Gray may have no choice but to return Danny to the life they built in Austin. If he goes, there's no way Justine can go with them. Unlike Gray, she's rooted too deeply to leave.
Unlovable (The Case Files of Dr. Matilda Schmidt, Paranormal Psychologist) by Cynthia St. Aubin, paranormal, romance, fantasy, humour (reviewed by Tina Williams)
Blurb: It isn't every day a sexy demigod throws a pissed-off Cupid onto psychologist Matilda Schmidt's couch and informs her the fate of the world depends on her ability to get him off his diapered ass and back to helping people fall in love. Just when Matilda convinces herself she's not hallucinating, in walks a Vegas hit man with a big gun and a bigger threat: pay back the million dollars she owes a notorious casino mogul, or wind up as fish food in Lake Mead.Rocketing across country with a gun to her head, Matilda has a dysfunctional love-god in her laptop bag, a million dollar debt she has no knowledge of, and must convince the seductive hit man he's snatched the wrong woman before he convinces her he might be the right man—for a night. Can Matilda stay alive long enough to keep love from becoming history?
The Medea Complex by Rachel Florence Roberts, historical, psychological thriller, mystery (reviewed by Caroline Barker)
****BASED ON A TRUE STORY***
1885. Anne Stanbury – Committed to a lunatic asylum, having been deemed insane and therefore unfit to stand trial for the crime of which she is indicted. But is all as it seems?
Edgar Stanbury – the grieving husband and father who is torn between helping his confined wife recover her sanity, and seeking revenge on the woman who ruined his life.
Dr George Savage – the well respected psychiatrist, and chief medical officer of Bethlem Royal Hospital. Ultimately, he holds Anne's future wholly in his hands.
The Medea Complex tells the story of a misunderstood woman suffering from insanity in an era when mental illnesses' were all too often misdiagnosed and mistreated. A deep and riveting psychological thriller set within an historical context, packed full of twists and turns, The Medea Complex explores the nature of the human psyche: what possesses us, drives us, and how love, passion, and hope for the future can drive us to insanity.
Debt Inheritance (Indebted #1) by Pepper Winters, dark erotic romance (reviewed by Tina Williams)
Blurb: "I own you. I have the piece of paper to prove it. It's undeniable and unbreakable. You belong to me until you've paid off your debts." 
Nila Weaver's family is indebted. Being the first born daughter, her life is forfeit to the first born son of the Hawks to pay for sins of ancestors past. The dark ages might have come and gone, but debts never leave. She has no choice in the matter.
She is no longer free.
Jethro Hawk receives Nila as an inheritance present on his twenty-ninth birthday. Her life is his until she's paid off a debt that's centuries old. He can do what he likes with her—nothing is out of bounds—she has to obey.
There are no rules. Only payments. 
After Wimbledon by Jennifer Gilby Roberts, contemporary romance, romantic comedy, chick-lit (reviewed by Caroline Barker)
Blurb: A British chick lit / romantic comedy novel about tennis, romance, family and having the guts to move on to a new phase of your life.
After 12 years on the pro. tennis tour and four years with her sort-of boyfriend, Lucy Bennett has had enough. She wants real life… and real love.
Her life, her decision. Right? Well, no one else seems to think so. With opinions on all sides, Lucy's head is spinning. And she's stumbling right into the arms of long-term crush and fellow player Sam. Shame her boyfriend – his arch-rival – would sooner smash a racquet over their heads than agree to a simple change of partners.
As the Wimbledon Championships play out, Lucy fights for her life on and off the courts. The question is: what will she be left with after Wimbledon?
Primary Fault (The Schattenreich Series #1) by Sharon Kae Reamer, fantasy romance (reviewed by Tina Williams)
Blurb: Caitlin Schwarzbach has left home. For good.
Separated from her beloved brother Gus at age seven, Caitlin exchanges small-town Texas for Cologne, Germany to be with him. But upon her arrival, a man resembling her brother attempts to kidnap her.
At a university reception, Caitlin feels intimidated by one of her brother's former colleagues, only to have the conversation interrupted by a dangerously attractive man, Hagen von der Lahn. She learns her seismologist brother Gus has included her in a research project with the amateur archeologist and stylish aristocrat. When Gus is called away to his institute by an earthquake, the deranged Gus doppelgänger again tries to drag her away. Hagen rescues Caitlin and secures her in his castle near the Rhine.
Gus vanishes, sought by the Cologne police for multiple sexual assaults. As Hagen and Caitlin begin the investigation into her brother's disappearance, her feelings for Hagen grow. But before she can follow up on a promising lead, a blow to the head lands Caitlin in the hospital. An unwanted visitor appears by her bed; someone she feared since childhood, the being she thinks of as Death. His appearance can only mean one thing: her brother is in mortal danger.
A novel of supernatural suspense, Primary Fault is a delightful mixture of science meets magic set amidst a backdrop of Celto-Germanic Otherworld.
Desired (True Alpha #1) (short story) by Alisa Woods, paranormal romance (reviewed by Caroline Barker)
Blurb: Shifters live in the shadows of Seattle, just under the skin of the alpha male, dot-com entrepreneurs who are building a new Silicon Valley in the Emerald City.
Mia is just a college girl trying to earn her business degree and dig out of the poverty she was born into—being a shifter is something she hides, hoping her secret won't sabotage her dreams.
Lucas is a broken alpha, a wolf who lost his mate, his pack, and almost himself—he wasn't looking to rescue a girl or start a pack war. But now he has to keep her safe or it won't just be her life, but his whole family at risk… only his inner wolf can't seem to keep its paws off a girl who has secrets of her own.
Guarded (True Alpha #2) (short story) by Alisa Woods, paranormal romance (reviewed by Caroline Barker)
THIS IS THE SECOND EPISODE OF SIX in the True Alpha serial.
Blurb: Shifters live in the shadows of Seattle, just under the skin of the alpha male, dot-com entrepreneurs who are building a new Silicon Valley in the Emerald City.
As Lucas fights his instinctual attraction to Mia, focusing instead on guarding her and keeping her safe from the Red pack, Mia tries to discover the truth about Lucas's dead mate.
Guarded (True Alpha 2) is 70 pages or 17,000 words. It's the second of six episodes in the True Alpha serial. 
Hunter Betrayed (Wild Hunt #1) by Nancy Corrigan, erotic fantasy, paranormal romance (reviewed by Tina Williams)
Blurb: Tainted from birth, Harley lives a life cloaked in darkness and temptation. She resists the lure of her evil legacy by holding the memory of her ghostly savior close. Every night without him is agony. She fantasizes about him and yearns for his body, but he's not the protector or lover she's envisioned. He's a Hunter bred to eliminate her kind. He's also her only hope of salvation.
Calan, the leader of the Wild Hunt, was created to protect mankind from the Unseelie Court. For a millennium, he's sacrificed to ensure the horrid creatures remain in the Underworld, but his strength wanes. He must rely on his enemy's daughter to save him, but he doesn't expect the intensity of their lust or love. Her touch calms his wild nature and ignites his carnal desires. He'll risk all to save her, but doing so forces him to make the ultimate sacrifice, one that'll damn him to suffer forever in his own living hell.
Soul Rebel by C.J. Pinard, paranormal romance suspense (reviewed by Caroline Barker)
Blurb: When 21-year-old Nolan Bishop meets a seductive woman named Eva at a dark club in downtown Shreveport, Louisiana, little does he know his soul will be gone as soon as she is. Realizing she's taken something from him, he finds out he has a very limited time to destroy her before he turns into something sinister and inhuman. In a race against all that is holy, Nolan has to find Eva and get his soul back while trying not to fall in love with Charity, the twin sister of the succubus who took his soul – all in 7 days.
Her Vengeful Scot (Highland Chronicles #2) by Christina Phillips, historical romance, erotic, slight paranormal (reviewed by Tina Williams)
Blurb: Ordered to remain in Pictland, Cameron MacNeil fights the lust that consumes him whenever he encounters the aloof princess, Elise. Not only is she a cursed Pict, she's married to the man responsible for his sister's death. In order to avenge his sister, he must destroy the woman he wants most.
Despite her reputation, Elise has no interest in men until she meets Cameron. Lacking the famed Scots charm, his blunt ways enchant her and he ignites a passion in her she thought long dead. When she is freed from her difficult marriage, Elise places her trust in the tough warrior who stole her heart.
Bound by blood oaths, the only way Cam can protect Elise from political schemes is to make her his bride. When Elise discovers the truth of her husband's death, she wonders if everything she knew about Cam was a lie. All she can do is trust that her goddess was right and Cameron is her true love.
Too Much to Lose (Dirty Little Secrets) by Samantha Holt, contemporary romance (reviewed by Tina Williams)
Blurb: Have you ever been so desperate you made a decision that would haunt you forever?
Jess has.
She became a porn star.
Jess is on the run from her past. She has no friends, no life. She tries to forget everything that happened to her all those years ago. After changing her image, leaving her home and getting a new job, she's determined it won't happen again. If that means never being close to anyone ever again, then so be it.
If only Hunter O'Reilly didn't make her wish things could be different.
Hunter needs this job. After being screwed over by his partner—make that ex-partner—his investigation business is on the line. Already in debt, he eagerly takes on the job of finding some stolen money at triple his going rate and all leads point in Jess's direction. He expects problems at that price. But he doesn't expect to fall for her.
However, no job is ever that simple. When he's forced to spend more time with her, the lines between business and pleasure are blurred. And once Jess's life comes under threat, they have to make a decision, can they both overcome Jess's past?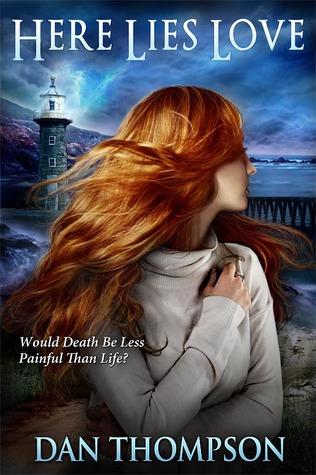 Here Lies Love by Dan Thompson, dystopian, romance, New Adult (reviewed by Caroline Barker)
Blurb: Would death be less painful than life?
When she is sold by her father, Abbey discovers that nightmares can occur when you're awake. Trapped inside a wooden cage, Abbey is forced to listen to the horrors and atrocities above; time ticking down until it is her turn. But Abbey isn't prepared to become a victim; she will escape.
Although, what Abbey isn't prepared for, is how harsh and unfair the world can be. With the sun turning its back on humanity long ago, life gives no opportunity. The only thing Abbey can do is learn to survive. To exist. And that means stealing any opportunity that comes her way. Haunted by the unpleasant memories bestowed upon her only nurtures Abbey's paranoia, until she realises that to truly live in the world, she must confront the person who was responsible for her misfortune – her father.
Here Lies Love is a New Adult tale of actuality, of facing up to the fact that love comes in many guises. Can Abbey find the one glimmer of hope or will she be overcome with the darkness of revenge?